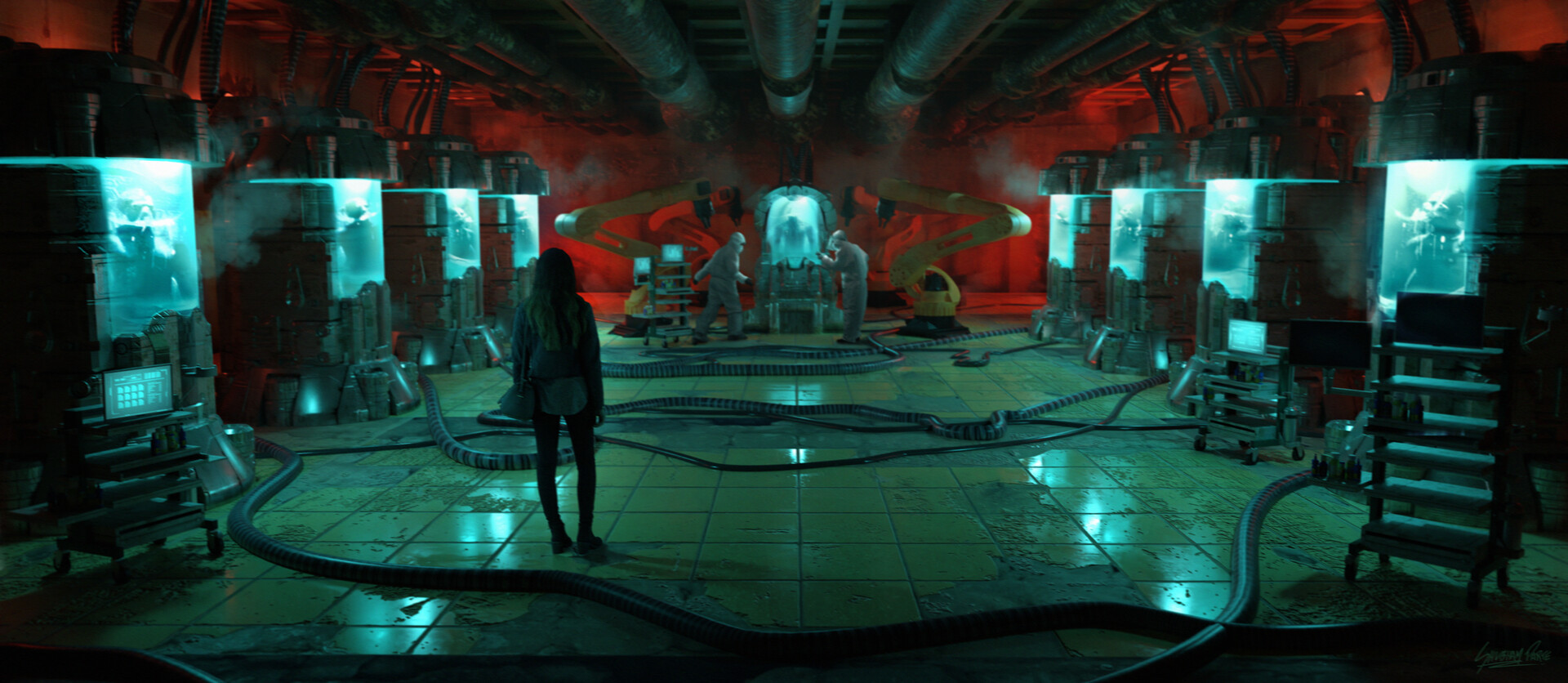 Coruscant… In reality, it was home. It had been over a year since she had left, but being back on the ecumenopolis world had left a tugging feeling deep in Aska's stomache. A feeling of anxiety that she simply could not shake no matter how hard she tried. They arrived a week ago, staying on the ship on a distant landing platform far from the busiest sectors of the planet but as she soon found out, there was no such thing as 'quiet and seclusion' on Coruscant, much the same as Nar Shaddaa. Perhaps that was why she felt so at home on the Smuggler's Moon. And perhaps it was what had happened there that added to the degree of uneasiness she felt here and now.
Aska had spent the last few days tracking down Trench and his lab, uncertain of just where it was. She hadn't spent much time on the surface and while she had a general idea on where she needed to be, it took some detective work to finally locate the facility. But she had done it and was now encased in her new
armour
while sitting in a rented speeder, overlooking the top of the spire where she had claimed her first kill. The memory of crushing Dur'Agu's skull under her heel came flooding back as she stared at the platform through her binocs but now it didn't cause her the pain it once had. Now she had grown accustomed to being a cold blooded killer. Now, it was that exact intention that had brought her back.
"It's pretty quiet down there,"
Aska whispered to Ali as she continued to surveyed the turbo lift. While she knew Ali was not suited to this sort of op, her presence was a growing comfort the longer the two stayed together. Because of this, she asked the Togrutan to come along and to bring the pistol she had been given on Nal Hutta. The others remained on the ship, awaiting their return.
"No surprise there, though. No one ever really came up even when I lived here,"
Of course, Aska had yet to explain just what it was they were here to do to Alisaah. She only told her she was going 'home' and that it was dangerous, wanting her 'good luck charm' near by. She had no clue that the holocron had whispered to her in her dreams. Told her to return, to find information that could lead to a life outside organized crime. Only Aska knew of her intentions.
"Hang on… What's this?"
the clone queried as she turned up the volume of the device at her side that was used to intercept transmissions. It took some time for her to find the wave length that Trench and his scientists had been using to contact the surface but she had finally done so… And what she heard was far from good news.
"Infection rates have exploded far faster than expected. I've locked myself in my quarters but I'm afraid most of our staff has already been killed or turned,"
Aska immediately recognized the voice. It was Trench, but he sounded panicked. Terrified for his life.
"To add to it, oour droid security force hasn't registered the infected as threats and are instead serving as a protection force, meaning any rescue team will have little to no luck, I'm afraid. I don't think we're getting out, Rahmier. Please, for the sake of Coruscant. Lock down the facility and tell my children that I love them…"
Aska sat in silence for a moment. She had heard that AMS had made it's way to Coruscant but she didn't think it was going to be running rampant in her childhood home… The virus had finally touched her life in a way she had never anticipated.
"This might be a bit beyond us now, kid,"
Aska stated solemnly. There was little to no chance the two of them could infiltrate the lab now. Not alone. No, she needed the aide of a couple old friends. Flipping the communicator over to beam a transmission, she keyed in the contact code to reach out to some of the only people she had left in the galaxy.
"Hopefully this reaches you, Cave Man. I'm in a bit of a tight spot and I could use your help. And if you're still with the hairless Wookie, well… All hands on deck,"
@Bex
@Reyn
@Isen
Last edited: