Character Profile
OOC

Versok
Joined

Mar 15, 2020
Messages

110
Reaction score

54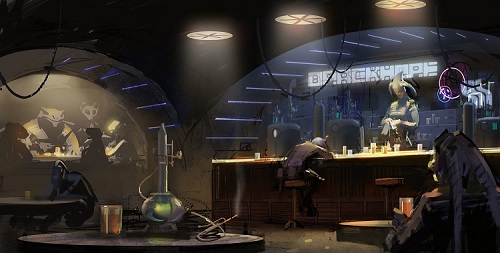 Coruscant level 1215, Quickdraw Cantina.
(Open to Zaa Fenn and mercenaries that would work for Zaa Fenn. If your character is gonna be on one set side regardless of what's gonna be said, state so as to make sure teams will be balanced)
​
It was a tranquil night in the Quickdraw cantina tonight, given the unstable situation of the Zaa Fenn. the people that were part of the family had been talking to each other about the White Lion of Zaa Fenn...And just as they did, as if he was a boogeyman summoned by simply saying his name, the White Lion left the local KnowOnes that ran the place while he was out a simple, short message: "I am coming over there tonight."

And so, an hour after the Quickdraw Cantina was closed for the night, the Miralukan would make his way inside the cantina, completely armored and masked, having carefully sneaked around with his forces as to not draw the attention of the people that were going over the different levels of Coruscant while searching for him.

Gareth had been to the Quickdraw Cantina plenty of times, but this one felt different, it didn't feel like a safe haven, there was a high chance the other members of his family would turn on him at any moment and Gareth knew that all too well, but he also knew this was going to be the last day that he would feel like that, because they all knew why he was here: To overthrow the absent Marissa and claim the top spot of the Zaa Fenn once and for all.

So, the armored Gareth Gin scanned the cantina after entering, Zaa Fenn members and mercenaries alike filling what looked like a closed cantina from outside, those that feared Gareth making darn sure to hire people in case it came down to a fight. Of course, the White Lion of Zaa Fenn did the same, for he didn't come alone either.

It would've been so easy to just open fire on everyone inside that looked even remotely hostile, but, of course, first he wanted to talk to them, make sure he didn't waste good, loyal lifes of people that, at the end of the day, were family, even the heartless Miralukan had some semblance of honor still hidden somewhere in there

"So, let's get this family reunion started, eh?"




Last edited: