Active Member
SWRP Writer
Joined

Nov 20, 2012
Messages

4,549
Reaction score

1,087
Coruscant would burn.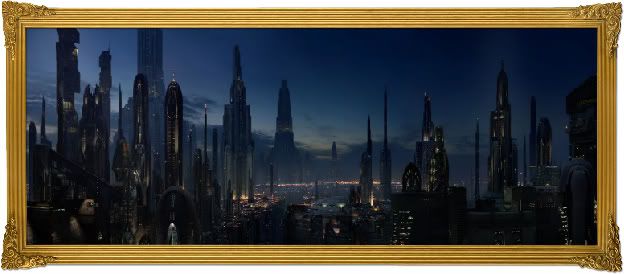 There was little question in Jedi Master Larik Novan's mind.
The last of the Jedi ships, retreating in the face of the mighty Imperial Armed Forces, would be taking off in the next few hours. The Jedi's Final Vigil was complete- their minds, hearts, and brotherhood connected as half of them fled their home while another half would stand to fight. It was an odd night, for Larik. In the morning, in just a few hours really, he would be standing on the ground engaged in combat against the finest the Sith, Imperials, and Mandalorians had to throw at them.
Previously, Larik Novan had served in the Special Forces as an Adjunct Lieutenant, filling in wherever he could. He had received a last minute promotion, however, and would be leading his unit in to battle the next day.
Captain
Novan. It had an interesting ring to it. Already he had shed his Jedi Robes, suiting up in his fatigues, a blaster at his hip opposite of his lightsaber. Long ago, he had sworn to uphold and protect the Galactic Alliance
as well
as the New Jedi Order. He couldn't go back on that promise.
Yet, the night was far from over. After receiving his own promotion, the Master Jedi had the honor of informing his second padawan about his promotion. Loogo Vsil, who had been under his tutelage for only a few years, was now a fully fledged Jedi Knight. The newly-Knighted Jedi would not be standing to fight with his old Master, however. Larik had given him his ship, and Knight Vsil would be aiding in the retreat. It was where he needed to be. Padawan Sunce, however, would stand by her master.
His bags packed, he threw them over his shoulder, as he turned around. Larik Novan regarded his room with a solemn smile. It was his first room as a Jedi, where he had first stayed when he was a young initiate all those years ago. It was quite probable that the man would die on the morrow, and while he was not afraid, he felt that everything had come in full cycle. Would tomorrow be it? Was this all he had ever worked for?
Shaking off the feeling, Larik forced himself back into the moment. Moving out the door for the last time, he turned to walk down the hall. He stuck out, as he was dressed in his Special Forces uniform, but the lightsaber on his hip and his face gave him away. Every Jedi knew who Master Novan was. He sensed many familiar presences, and felt the solemness and grimness of the occasion as he waltzed down the hallway. Suddenly, however, a very specific and familiar presence entered the area, and one that he had not seen nor felt in a long time.
The Jedi Master stopped in his tracks.