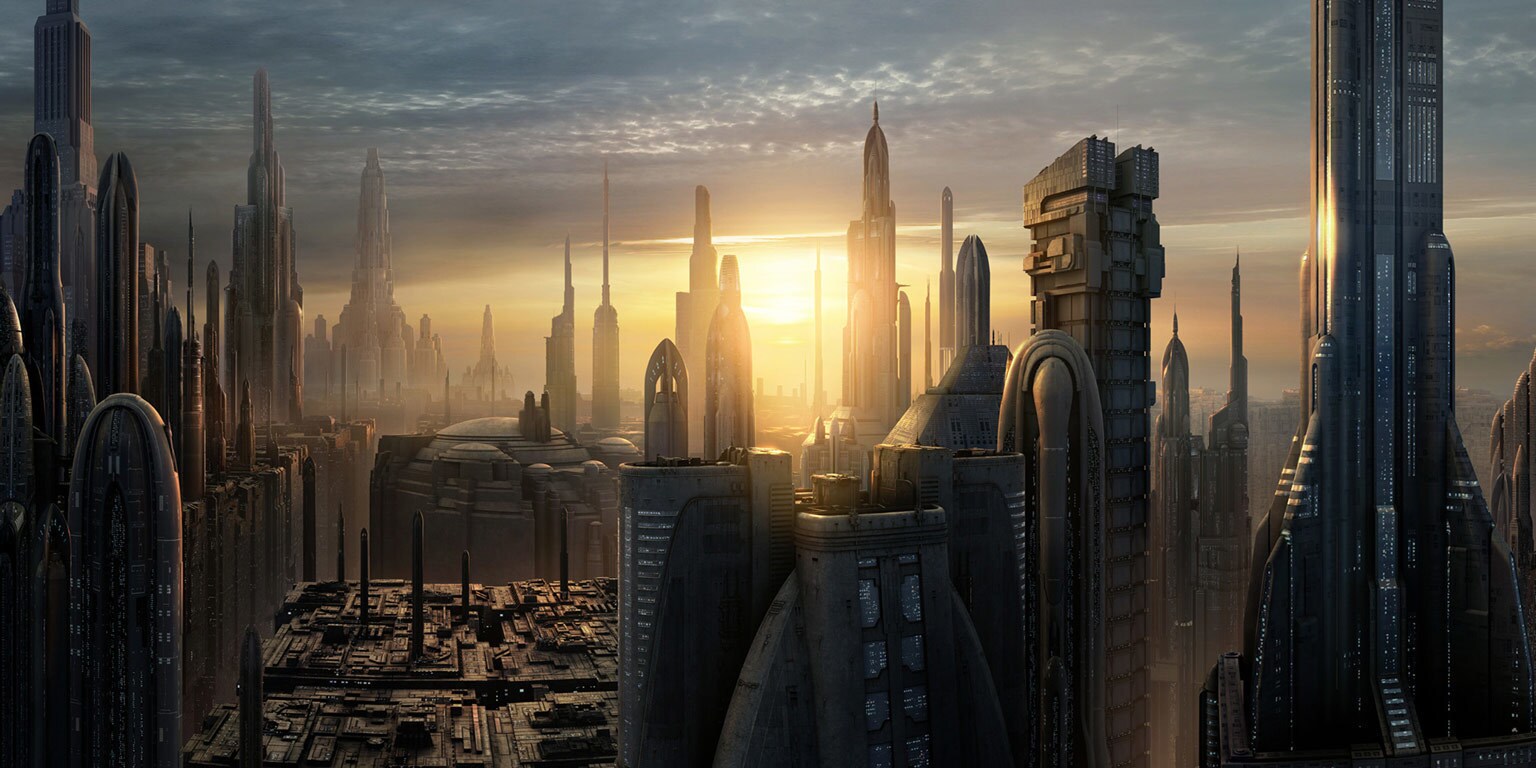 Music OOC
The Iron Gunman
​
Cigar smoke twirled toward the orange sky in a thin plume that would never reach it. Its efforts were not in vain. In the sea of steel and concrete, pillars stood tall and proud as they scraped the clouds, till they fumed with factory smoke that threatened to choke the sun. Yet, even with that industrial horizon, there still smoked the scar of the Sector Rangers and their headquarters going up in blast and blaze.
Is that how the mastermind watched his fireworks? Smoking a cigar?
Zad wondered as he inhaled before placing his hand on the balcony's railing. The world below was waiting for him, though it had not waited on him. He could recognize his face in the mirror, reconciled with the new creases on his countenance, but somehow each glimpse was of an alien visage—a man he could sometimes hardly remember.
The Ranger turned from the view of a naked Coruscant and stepped back into the spaceport's main hold. Sunlight created a canopy across the blue sky that hid the void waiting beyond, stealing his attention above a freighter setting down that looked as yellow as the color yellow.
Not a bad haul.
He nodded to himself as the lithe Zeltron pilot exited, her pink fingers running through a head of long green hair.
But not my business.
Zad looked away for what was, spotting an Ithorian shake hands with a Zabrak, a pair of Humans sort through luggage and a Bothan waving his way.
The Ranger straightened his black leather coat and approached his greeter with a grin.
"About time you showed up. Your employer must like making his guests wait."
"Huh?"
The Bothan blinked.
"No, you idiot, I was waving over my wife and daughter."
Zad glanced behind himself to find two female Bothans skipping his way.
"Oh…"
He scratched his head.
"My mistake."
Druk.
With that, he excused himself and gave the port another scan.
Three Trandoshans giggling over their latest skinning, the fattest Rodian I've ever seen, a Twi'lek pop band boarding their barge…
He sighed. It would have been easier if he had been as privy to the contact's face as they were of his own. Relenting, Zad decided that the best way to wait for someone was to be waited on, so he waltzed toward the spaceport bar and sat at the counter guzzling ale.
Last edited: