Joined

Jun 17, 2015
Messages

320
Reaction score

119
NAME:
Rys Rilen
FACTION:
Jedi Order
RANK:
Jedi Knight
SPECIES:
~
Hybrid
~ Morellian Father and Ubese Mother
AGE:
23
GENDER:
Male
HEIGHT:
5ft 10in.
WEIGHT:
148 lbs.
FORCE SENSITIVE:
Force Sensitive and trained by Father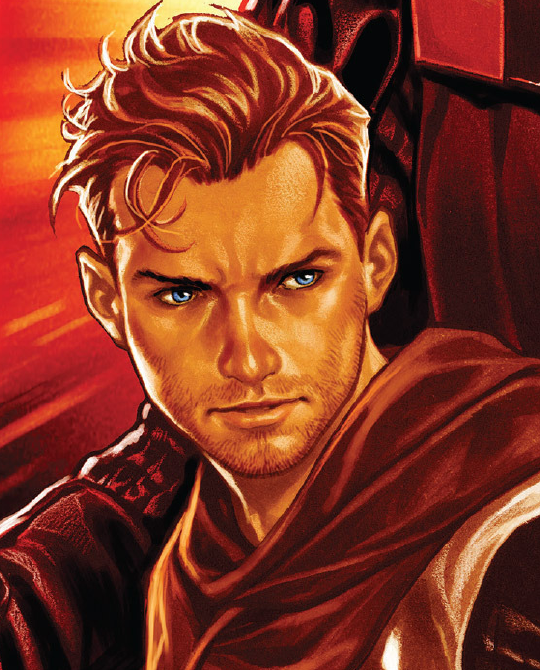 ​
APPEARANCE:
Rys stands at approximately 5 feet and 10 inches tall. He has a medium muscular build with medium length strawberry blonde hair taking after his father, with a darker complexion gifted via genetics from his mother. His vocal chords take after his mother as well, not as severally damaged as a 'true' Ubese, but enough so that he still speaks at a low whisper compared to other species of the Galaxy. His fathers genetics mix nicely with his heritage from his mother, installing a long enough lifespan to break 100 years of age but not long enough to live to the 160 average lifespan of a Morellian. He doesn't require a breathing apparatus like his mother does because he doesn't constantly breath in poisonous air from a type 1 atmosphere, however his lungs are weak to heavy atompsheres where he does need a breathing apparatus, this is why he and his father train on Mimban.
PERSONALITY:
Rys is generally quiet. Although he has many things to say, just not the capacity to say them because of his vocal chords being strained from his birth as a half Ubese. He he fast, moderately strong in physical terms and smart, smart enough to speak multiple languages, not smart enough to discover the meaning of the universe using scientific equations. He has a strong heart and cares deeply for the world around him. This gift was imparted on him from his father, this is why his father chose to raise and train Rys on Mimban, a world burned and destroyed time and time again from the past wars. Rys doesn't possess extraordinary skills with a lightsaber, though he does train everyday wielding both the Force and Lightsasber in dual capacities. His will is strong and his judgement of character is precise. He cares more for the well being and balance of the people of the universe rather than Jedi affairs and politics.
He learned a great deal from his father growing up. He taught him the ways of the Force, the mystery's and secrets of healing and the calm that can come from a peaceful mind. His early years were fulled of childhood antics, he was allowed to play, but when it came time to learn to code and order, his father set him to work. When Rys was 5 years old he began his training in the ways of the Force. Not particularly strong, nor gifted, but full of heart and willing.
His relationship with his mother is non-existent. She's not dead, but she did leave after Rys was born. The Ubese people aren't known to settle on foreign planets for very long, often preferring to pick up and move on immediately as soon as their business has been accomplished. However, his mother fell in love with a wounded Morellian Jedi. They were in love for a beautiful nine months until Rys was born and she heard the call of her people to move on. She did not do so easily, but she still left. Rys' father wasn't concerned though. He knew her call was just as important as his call to the Force was, he let her go but elected to keep Rys and train him in the ways of the Jedi. This made Rys feel abandoned in certain ways, yet also accepted as a Jedi, where he could accomplish much more than just living a ignorant blissful life.
BIOGRAPHY:
Rys was born to Bo-Ji Rilen, his father who is a Morellian and Kouus, his mother who is Ubese. Their paring was one in a million. They met on the scarred world of Cato Nemoidia. Kouus was on a bounty mission to take out an influential political leader hailing from Cato Nemoidia and Bo-Ji was traversing the ridged landscape of the terrain feeling out his sensitivites in the force when he fell from a high cliff. His skills as a Jedi saved him from death, but the care of Kouus saved his life. They sort of fell into each others lives after that. Kouus completed her mission and reluctantly brought along the Jedi after he saved her from the authorities when he repaid her kindess when she nursed him back to health. They fled to the nearby system of Mimban and settled there for a little while. One thing led to another and Rys was born. Though they both knew that their lives could no longer travel down this path anymore. They split, with Bo-Ji taking Rys to train as a Jedi and Kouus exploring the galaxy yet again as a ruthless bounty hunter.
Rys grew up in the backdrop of a great mud world. The entire planet was his playground from birth and he relished the idea of living in the mud. After he was old enough, his father began Jedi lessons. Not being particularly tied down to one set of Jedi codes his father balanced between all of them, teaching the new ways of thinking as well as the old, allowing his son to think for himself and develop interests in what he liked or disliked. The Jedi path was as open as it had ever been and Bo-Ji wanted his son to take full advantage of that. Bo-Ji recieved conformation from the council that he would be allowed to train his son in the ways of the Jedi set in the muddy world of Mimban. He became Jedi Master Bo-Ji Rilen and took his son as his padawan.
After his show of skill in his Jedi Knight trials, his master and father knighted him as a Jedi, and declared it was time for him to have a proper lightsaber. The pair gathered their belongings from the small hut in which they both occupied and set off to the nearest space port, which was really just a small platform with the docking capacity of maybe one to three ships depending on the size. They bought passage through a small spacer vessel who was headed out to Mon Calamari for business. They hitched a ride as far as the Adega System where they asked to be dropped off on Ossus where there was rumored to be lightsaber crystals still in select formations in space and on the planet. They had no return vessel, but both men trusted in the Force to guide them home.
Ossus was a barren wasteland. The connection to the force this planet once held had been shattered here long ago. It was fractal geography, arid deserts, and a dry climate. Both Rys and Bo-Ji were skeptical, however, the master took charge and headed for an approximation of where he believed the old Jedi Library lay in ruins. After two days travel, sensing the conditions of the planet, moving with the wind, and allowing the force to show them the path, the two Jedi made it to the buried entrance to the Grand library, the exact same one Luke Skywalker himself explored more than a century ago. Bo-Ji was uncomfortable in this fragile place, he wanted desperately to heal the wounds of this planet but knew that this damage would need the mastery of a Jedi far greater than he. Rys, however, felt a pull from deep within the temple. A calling of sorts. He recalled his father telling him the story of when he first got his lightsaber, how the crystal called out to him in the dark, sandy caves of Jedha. His father reached out with the force to claim what had always been his. The crystal reached to his touch and burned a bright blue hue, something he would never forget. Rys wanted so badly to have this experience, he craved a lightsaber of his own since his father first let him ignite his many years ago. This was Rys' chance, and he would savor every moment.
Rys ventured into the dark depths of the old Jedi library. Bo-Ji stayed behind to setup camp, for this was a journey only Rys could take. Rys climbed past ancient rubble, delving deeper into the darkness. When Rys reached the antechamber he looked through the shelves but only saw dust. What was once here was no longer. It had been stolen, looted, turned to dust or lost to time. Millennia of knowledge, all but vanished to the ages. The call was becoming stronger and stronger the further Rys went into the Library. He could feel heat on his face, not from the humidity of the ancient temple buried in sand, but almost as if a lightsaber had been ignited in front of him. The smell of dust and sand wafted through the air, then a scent he had never smelled before, this guided him through room after room until he came to the lowest possible level of the Jedi temple. Here he stood before a large cavern that extended even further into the Earth, the call, the smell, the gut feeling, it was all permeating from here. He went in until he could see no further, his eyes deceived him, if he was to escape the pitch black hell, the force would need to guide him. Rys reached out a hand and felt a tug. A tug that was foreign yet somehow familiar to him. He pulled this feeling towards him, it was stiff but it came with ease after he let himself feel a bit more. The crystal dislodged itself from the rock it was buried in and flew directly to Rys. He caught it and looked at it, in the dim lit cave, this small crystal was brighter than the sun. Giving off a yellow hue the crystal etched its memory into Rys' mind. He would never forget the complete feeling of him and this crystal being together.
Rys left the ancient Jedi temple and showed the crystal to his father. This was the crystal that chose Rys, and now he had to harness the energy by crafting his very own lightsaber.
When Rys completed the creation of his lightsaber he began to investiagte with more expeditions into the Grand Library, discovering different aspects of the temple such as training rooms, smaller scaled libraries, and living quarters. He and his father wanted to spend as much time here as possible until they were ready to move on. After a year on Ossus he and his father were able to signal for a freighter to pick them up, after that the two moved to Ajan Kloss the homeworld of the New Jedi Order. Rys began studying with fellow Jedi academics, learning a formal lightsaber combat form and working further to improve his connection with the Force.
SKILLS:
Utilizing the Force:
- Push
- Pull
- Wall run
- Sense
- Heal
Lightsaber Combat
- Advanced in Form IV: Ataru
~Able to complete the Hawk- Bat Swoop effectively. "Was intended to allow a combatant to quickly strike their opponent without giving them a chance to react"
~ working on mastering the Saber Swarm. "Numerous short strikes were aimed at the adversary."
GEAR:
(1) yellow bladed lightsaber
ROLE-PLAYS:
Post the links and the titles to all of your characters Role-Plays. To make things easier, post the link and name here as soon as you enter the Role-Play thread.


RELATIONSHIPS:
List individuals the character is connected to and what sort of relationship they have, from romantic to familial to friendship to enemies, etc. Please put links to any PCs.


SHIP:
Does your character have a personal ship? If so, link the ship write up from the technology boards here. Unapproved technology cannot be used until the application is approved.

DROIDS:
Does your character have any droids? If so, what are they? Generic droids do not require write-ups.

PETS:
Does your character have any pets? If so, what are they?

KILLS:
Post the names of the PC characters (characters role-played by real people) that your character has killed. If possible, include a link to the thread in which your character killed him/her.

COMBAT:
Has your characters been in any matches in the Dueling Ring or participated in a PvP, be it a Main Faction battle, a duel, or a skirmish? If so, post the names of those he/she has fought and include a link to the fight. Also be sure to specify who won the match.
Last edited: