Supreme Meme Commander
SWRP Writer
SWRP Supporter
Joined

Feb 13, 2012
Messages

7,936
Reaction score

4,649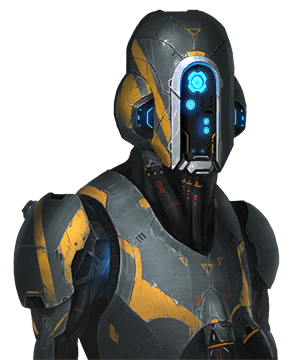 ROUTINE EXTRAPLANATERY EXPANSION DROID
​
Affiliation:


Various.



Manufacturer:


Serv-O-Droid, Inc..



Class:


Labour & Security Droid



Locomotion:


Legged, bidripedal.
Power Supply:
Rechargeable power cell, 72-hour duration.
Sensors:
Size:
Height - 1.8 meters.
Composition:
Armored durasteel.
Tools and Equipment:
1x reader socket.
1x standard I/O socket.
1x spotlight
1x intergrated comlink
DESCRIPTION​
Affectionately known as REX, this droid is a security and labor droid intended to work in harsh conditions, such as new colonies, mining facilities and other areas in which organics may find it hard to operate. Designed with three major functions in mind, REX droids are mass-produced and used in a wide range of businesses and government authorities across the galaxy. It's three functions, as designed, are as follows:
To gather resources needed for expansion.
To secure resources needed for expansion.
To manage resources needed for expansion.
Standing at 1.8 meters tall, with an armored durasteel casing capable of resisting light blaster fire, and a suite of sensors including a pair of sonar/audio pickups, a standard photoreceptor, a combined infrared sensor and motion detector, and a dedicated rangefinder. Though it has no built-in armament, the REX is proficient with most ranged weapons and is decent at hand-to-hand combat, both armed and unarmed. The type's tactical subroutines leave something to be desired, however, the type's combat ability is still an improvement over many Clone Wars-era battle droids, such as the B1. REX-series droids come from the factory able to speak Basic and Binary; the latter is often preferred, as it is able to be transmitted rather ta spoken, to its fellow units enabling for faster communications.
REX-series droids are found in service across the Galaxy, to a huge range of organizations. They work well together, with their communication style and programming making them excellent team players with other REX units especially, meaning they make for excellent workers and security staff.
LEGALITY​
Legal.
INTENT​
To create a base droid or a forthcoming character.
ADVANCED TECH​
No. This is a reskin of a
YD-series
droid.
Last edited: