Character Profile
OOC

Six
Joined

Sep 20, 2020
Messages

48
Reaction score

10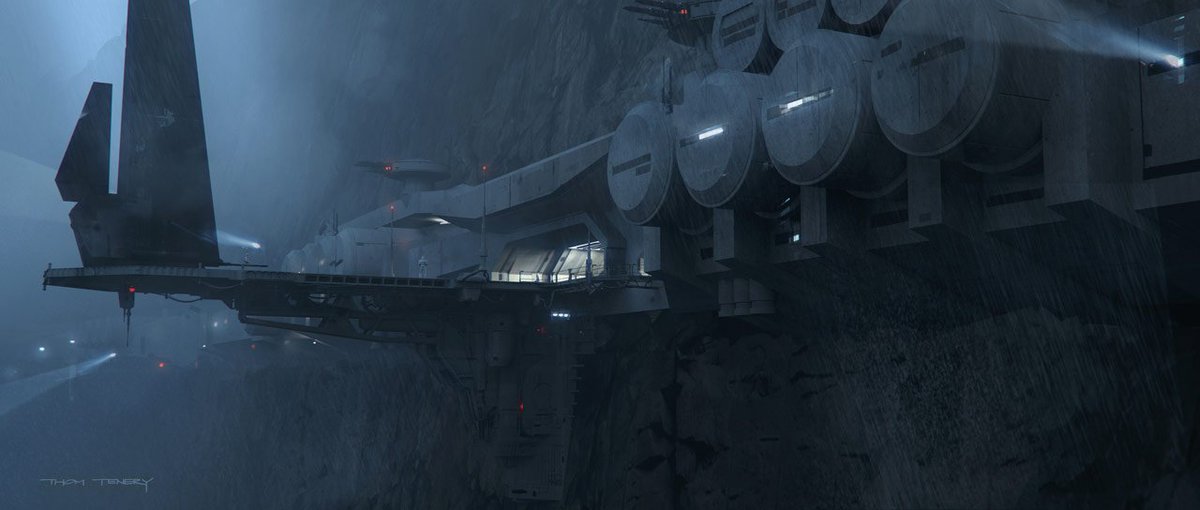 Eadu
-Secret research facility-​
As Jaina's ship descended upon the platform the vessel was being met by two battle droids emerging from the insides of the station and onto the rainy platform. Just minutes ago the ship passed the security check and avoided multiple turrets mounted at the side of the mountains from shooting at it as Jaina used the access codes provided by the Sith Council. The droids approached the ship followed by an old man dressed in white and adorned by cybernetics around his body.
Hereck Gaan
Age:60
Member of the Sith Eternal
Scientist and researcher known for his exploits in the field of cybernetics and droid manufacturing​
Hereck slowly followed the droids as the two raised an arm, aiming their wrist mounted blasters at the now descending ramp of Jaina's ship. The Sith woman made her way down the ramp slowly, her form and face covered by her black robes, onto the rainy platform ahead.
''Identify yourself.''
Hereck commanded, his voice sounding old and gravely and with only a slight hint of mechanization underlying his words.
''Jaina Terris.''
the woman responded, her lip slightly curving in an almost friendly gesture
''On behalf of the Sith Council Hereck, the codes that allowed me to get passed your turrets being further proof.''
Hereck observed her for a moment before speaking to his two droids
''Lower your weapons, she checks out.''
The claim brought a further smile on her face and she greeted it with a mock semi bow as the droids lowered their arms and stood back.
''Apologies but a man can never be cautious enough, though your codes checked out I still needed some more concrete confirmation.''
he explained as Jaina walked down the platform and in between two droids
''Of course.''
she added.
Hereck turned a heel a made his way back towards the station
''Come, no need to stay here and get soaked.''
Jaina followed the old man as she was flanked by the two battle droids while Hereck was walking several feet in front of them. With his back turned he spoke again
''It's been a long time since the Council last contacted me, let alone sending someone to do so in person.''
Jaina eyed the two battle droids from beneath her hood before responding to Hereck
''A lot of things have went down, my guess is they need your services now more than ever.''
Hereck met her words almost instantly
''The attacks on Corucsant ? The systematic hunts of the Jedi ? Or perhaps the 'experiment' on Nar Shaada ? I know that which you speak of girl, just because I choose to recluse myself does not mean that I am not on top of things.''
The four of them had made it inside the station, the door closing behind them as the sound of rain finally stopped. Before them stretched out a wide hallway with a single direction leading towards another giant set of doors.
''Then you shouldn't be surprised that they are reaching out to you for your service at this time ?''
She asked the old man that was frankly more machine than man now. Hereck walked with a slight slump, he was around Jaina's height, dressed in a tight white garment of some sort that wrapped itself tightly around his neck-or what was left of it. The neck part of Hereck was donned with multiple cybernetics as well as his face. Multiple metallic tubes plates and circuits wrapped themselves around the old scientists face and his left arm, that was left sleeveless seemed to be fully cybernetic. She couldn't tell about his legs since they were covered with the white garment he wore and some large grey boots.
''Perhaps. I imagine they need some sort of reinforcements to their ranks, expecting some improvements and breakthroughs in my field that would give them the advantage.''
Hereck continued as the four made their way across the hallway and in front of the door leading to the next room. The door instantly opened as soon as Hereck approached and they were greeted by a wider, almost vacant room.
''I know they don't need droid reinforcements since that's not what this facility is for and I told them that the main project will take some time before it's ready, but the Sith were never a patient bunch.''
Inside this almost completely vacant room Jaina couldn't help but notice a number of security cams all around the rooms corners as well as four mounted turrets. Two were clinging to the wall in the far corners of the room, parallel to each other and the other two were mounted onto the ground directly bellow the first two.
''And aare you not.. Sith ?'
' Jaina playfully asked, the slight smile never leaving her face.
''By denomination - Yes. By circumstance - Yes. But before all else I am a man of science.''
Hereck opened the door at the end of the room and finally turned towards Jaina and the two droids.
''And I am also not a fool.''
he said with clear confidence
''I know full well why the council sent you here. I had to make sure who was on the vessel in order to plan my next course of action, taking out a Council member and taking out a mere errand dog is simply not the same.''
It was clear now, without a shadow of a doubt - He was onto her task here.
​
Last edited: