He Who Stood At The Altar And Burned
SWRP Writer
Joined

Jan 2, 2016
Messages

717
Reaction score

351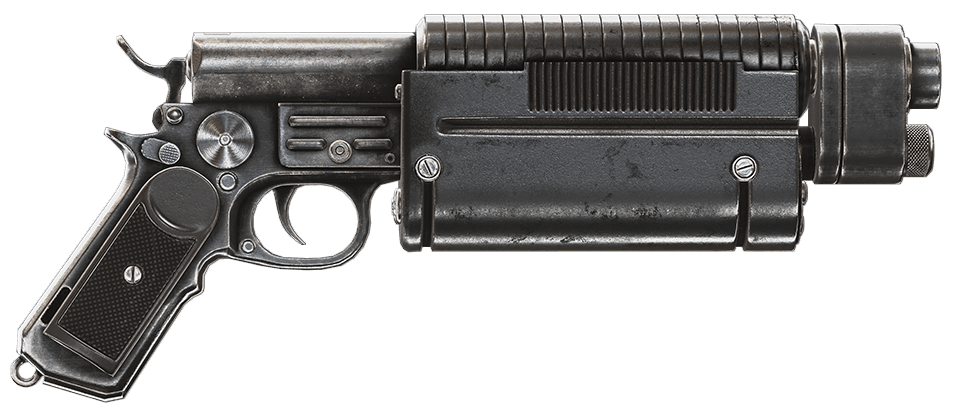 K-16 Bryar Pistol
​
AFFILIATION


Public Market

MANUFACTURER
BlasTech Industries

SIZE
0.3 meters

WEIGHT
1.3kg

COMPOSITION
Durasteel, wood panel
WEAPON TYPE
Hybrid Blaster Pistol
DAMAGE TYPE
Medium
Heavy
AMMUNITION CAPACITY
50 (Medium)
4 (Heavy)
FIRE SELECTOR
Semi-automatic
MAX RANGE
50 meters (25 meters charged)
DESCRIPTION​
Originally designed based off of the equally outdated K-10 Bryar Rifle, a popular self-defense weapon within farming colonies, the pistol is designed as though sliced from the center of the rifle itself. Unlike most blaster pistols, but alike to the rifle variant, If one pulls and holds down the trigger, the pistol will charge itself to deliver a devastating energy blast that will drain at least one fourth of the remaining battery pack.
Though the pistol can be hard to control in its charged state, prolonged semi-automatic fire does not cause rapid overheating - a design shared with it's long-arm brethren. The design of the grip and weapon itself is angled as to allow quick access, maneuverability, and comfort of use. All excess energy is vented through the barrel's side exhausts, preventing thermal warping from fervent overuse.
LEGALITY​
Legal. This specific model is of an older make, distinctive in design, and no longer in production. A collector or artificer would notice the weapon, though they were mass-produced to be common enough that few would bother stealing or bidding on them.
INTENT​
One of the many canon alternatives to the DL-44, DT-29, Westar-55, or any other hand blaster.
This one in particular is iconic as the sidearm of Kyle Katarn, protagonist of the Dark Forces series and it's sequels. It was also featured in Battlefront 2015, as DLC.
Unique in it's handheld ability to discharge massive amounts of energy from a single pulled trigger; a capable, stylish and adaptable pistol. Since it is canon, it has been adapted to conform to Site standards.
Last edited: