Story Admin
Administrator
Joined

Dec 3, 2011
Messages

1,345
Reaction score

153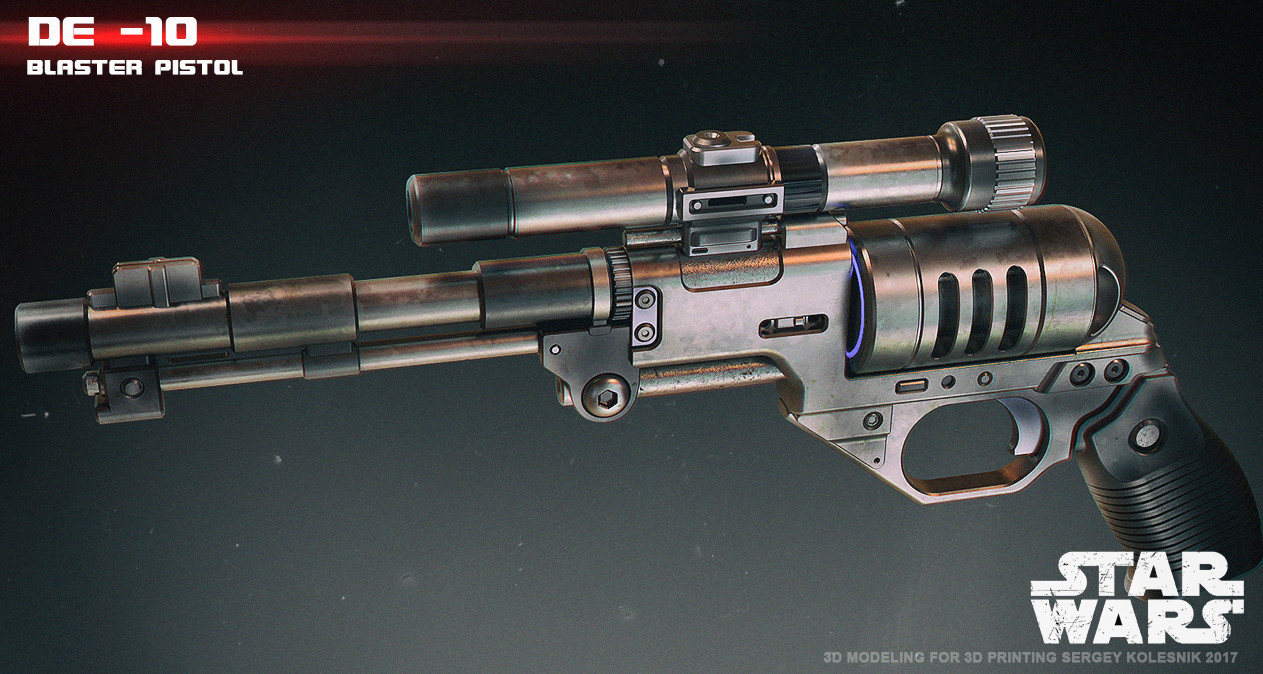 DE-10 Blaster Pistol
​
AFFILIATION


Open Market

MANUFACTURER
BlasTech Industries.

SIZE
33cm long

WEIGHT
1.3kg

COMPOSITION
Durasteel, Dallorian alloy
WEAPON TYPE
Blaster
DAMAGE TYPE
Medium
Medium stun
AMMUNITION CAPACITY
50 shots per pack
FIRE SELECTOR
Semi Automatic
MAX RANGE
50m
DESCRIPTION​
The DE-10 blaster pistol fired distinctive blue bolts as a result of higher quality blaster gas. Its hefty weight gave it the feeling of a formidable weapon in trained hands. The majority of the weapon's body was a silver-gray color with a black grip. It had a maximum range of fifty meters. Reload was accomplished by sliding the rear port back and removing the cartridge, which contained both power and the gas mix for the weapon. The overall frame is durasteel, with a dallorian coating to aid in heat dissipation and am ergonomic carbon grip.
Originally put out on the market at the same time as the DL-44, it was advertised as a true gunslinger's weapon. Though less customizable than other offerings, it was made to a high standard and was easy to repair and maintain. The detachable macroscope on top had variable zoom, and the included holster was designed for rapid draw using a maglock system. It was incredibly rugged, capable of surviving a good amount of punishment or filth due to an enclosed design. Because of its weight, proponents have suggested using it as an improvised club in close combat.
LEGALITY​
Legal. Ownership of blaster pistols is not restricted in most of the Galaxy, however openly carrying such a weapon in public might be on more "civilized" worlds. On less civilized worlds, it still might draw unwanted scrutiny.
INTENT​
To introduce a legends weapon that looks neat, as well as an alternative to the blockier pistols with similar stats.