Joined

May 13, 2020
Messages

16
Reaction score

10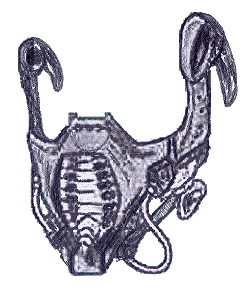 Anomid blacksmith vocalizer mask
​
Affiliation:


No.



Manufacturer:


Yablari manufacturing



Type:


Modification to add a gasmask function for blacksmithing and other fabrication needs.
Power Supply:
Personal rechargable inclosed battery.
Sensors:
Chemical filter sensor.
Size:
Lower face cover.
Composition:
Leather, metal, wire, cloth.
DESCRIPTION​
This is a slightly modifed Anomid vocalizer mask, Anomid created these Vocalizer Masks to speak. The mask converts subtle movements of the wearer's jaw and throat muscles into synthesized words and phrases. It is programmed for one language only (Usually Basic), but can be reprogrammed to synthesize words in a different language. This mask has an attachment for breathering to help in the crafting of items within close proximity to harmful gas and chemicals, with the addition of tinted lenses stored in the temples of the mask for bright light while welding. This mask provides no armor protection but can be a component in the crafting of a full helmet.
LEGALITY​
No restrictions.
INTENT​
This is made for communication and work needs, manditory for the Anomid species due to no vocial cords.
ADVANCED TECH​
No